In the shadow of the huge ruined Chedi (spire) of one of the oldest temples in the city, we are right at the heart of Northern Thailand's capital of Chiang Mai.
We offer a fully-equipped space for students and teachers of many backgrounds and disciplines to practice, explore, and share together. Grounded in Ahimsa, or non-violence, all of the teachers at The Yoga Studio are highly experienced and value safety, compassion, and adaptation to individual needs. Also, as Chiang Mai is a cosmopolitan crossroads of Southeast Asia, we are committed to bringing international teachers to share their knowledge and understanding.
We look forward to practicing with Sky.pro!
Chiang Mai
Chiang Mai is the ancient capital on the Northern Thailand kingdom of Lan-na (meaning one million rice fields). It was founded more than 700 years ago, which gives it a unique feel, and a level of culture and refinement not found in other parts of Thailand.
It is at an elevation of 310 mts (1,027 ft) giving it a slight and welcome coolness, especially during the winter months.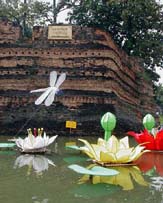 Although undergoing growth and modernisation Chiang Mai still reveals its old self in the little lanes (sois) lined with teakwood houses in little gardens, and in its tree-lined moat around the Old City.


The moat and old city wall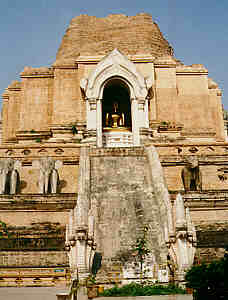 Wat Chedi Luang
The Yoga Studio is privileged to be situated
directly beside Wat Chedi Luang, the largest temple in the city and considered the "Mother Temple" and the spiritual heart, both for the city and the other more than 300 temples here.
Chiang Mai is also where many people choose to come and study Traditional Thai Massage, with several of the country's leading teachers being based here. There are 3 universities which give a young and lively feel to the city.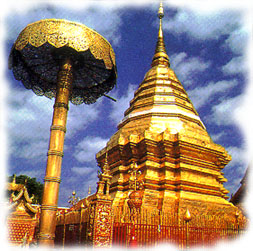 The golden spire of Wat Doi Suthep, Chiang Mai